Ever heard of Steven Bradbury?
He's an Australian speed skater who, as you might expect given the lack of ice in Australia, was coming last in the gold medal race at the 2002 Winter Olympics.
It all seemed hopeless, there was no chance. Or was there?
Out of nowhere, destiny intervened. All the other competitors somehow fell over right before the finish line, and Steven Bradbury cruised into first place and into history.
We strongly recommend you watch the whole 2-minute video to see it, but if you're in a rush, this five second version sums it up.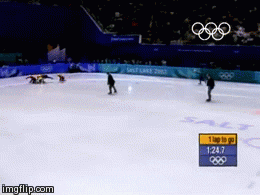 So why are we talking about Steven Bradbury?
Because The Earful Tower has been nominated to win Best Expat Blog in Paris – a competition run by Expatriates Magazine – and we are currently in 11th place with 2.9 percent of the votes. And this is after a month of voting.
This, we feel, is roughly the same as being the fifth-placed Australian in an ice skating race.
So have we given up? NO! The competition runs until August 15th, and we are waiting for everyone to fall over at the last minute.
But we need your help to make us cross the line after that.
Here's how you can help us.
It literally takes 3 seconds to vote for us. Click this link, scroll down until you see "The Earful Tower". Click the little box to vote. Done.
If you're still reading this and you haven't clicked the above link, then here are a few seconds to do it.
…
Still haven't clicked? Hm, you're playing hard ball… and we respect that. You think we should earn your vote. And we agree.
So here's our offer: If we win this thing, we will host a pub-crawl in Paris through the 20 bars that Forest Collins recommended in our 21st episode. Check her epic episode here, or see the map below.
And you are welcome to join us. All are welcome. It will be the celebration of celebrations. And Forest is "totally in" for the pub crawl, she said. If this thing gets traction, we will invite more past guests along for the ride.
Is it possible to visit 20 bars in one night? Is it safe? Is it expensive? (Yes).
Anyway, that's our offer. Now, click here and vote right now. This competition is calling for a Bradbury, and we are already lacing up our ice skates and lining our stomachs.
Thanks for voting, and hopefully see you very soon for a beer (or 20).
PS: Do we deserve a vote? That's up to you. But if we can add "award winner" to our description, it might help us get some great guests in the future!